Video-based
All Didasko courses consist of a number of short instructional videos, each followed by certain exercises. Videos are typically 12 minutes or so. The length of the video is shown on the screen before you start. You can watch any video as many times as you like.
Many languages
If English is not your native language, you can choose another language and follow the transcript on the right side of the video. You can rewind the video either by clicking on the timing bar below the video, or by scrolling back the text to where you want it, and clicking there. You can also slow down or speed up the video.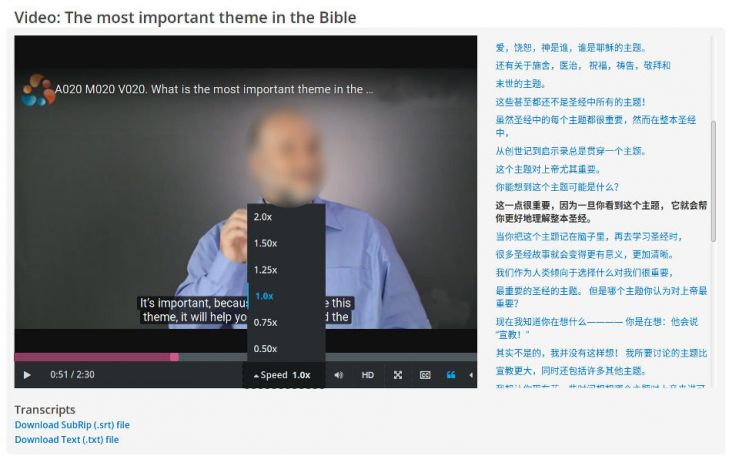 Video transcripts
These transcripts can be downloaded if you prefer to read rather than to listen.
Self-paced
Our courses are aimed at adults. Therefore, you set your own pace and work at the times that best suit you.You can log out of Didasko whenever you wish. When you return later, you are automatically taken to the exact place in the course where you were before. You decide on your own pace of learning. You can also pause, rewind, slow down or speed up a video to make it easier to follow. You can watch any video as many times as you like, and you can even download videos onto your computer or smart phones if you wish.
Most videos are followed by a short quiz, which is not really aimed at testing you, but rather to help you to ensure that you have grasped the most important information in the video. Many videos are followed by reflection questions to encourage you to pray about, and to apply, what you have learnt.
If you are doing a course alone, you will see that some videos have online discussion forums where you can interact with other people doing the same course. There may also be optional reading or assignments in the form of online articles. We would like to encourage you to form a group and do the courses together, discussing reflection and facilitation questions after each video together. This is a better way to learn than doing it alone.
Self-directed
Didasko does not dictate which courses you do, nor when, or even whether you complete a course. If you are new to intercultural ministry, you may not know where to start. As we develop more courses, we will update our Web pages to help you with this choice. A good place to start is the The Bible and Missions course, which explains the basis of and need for intercultural disciple-making ministry. This can be followed up by Discipling the Nations and Roles in Frontier Missions. These courses provide insight into what kind of training you may need depending upon where God is leading you.
But before you tackle these courses, we recommend you do the short tutorial course "How to use Didasko", which shows you how to take any course on Didasko. Here you will learn how to:
navigate through the courses

interact with other learners

answer online quizzes and problems

participate in online discussions and Wiki
This course will help you to proceed to your first real course with confidence.
Exams and Certificates
At the end of each module there is a short exam, usually in the form of a multiple-choice quiz. To gain a certificate, you must pass every module quiz in the course. For more information on certificates, click here.