Video-based
All Didasko courses consist of a number of mini-lectures in video format. Video lengths are between 8 and 12 minutes. Each video is followed by exercises such as a simple quiz, reflection questions, and an online discussion forum. You can watch any video as many times as you like. Someone made this comment:
I liked the variety of teaching methods used (video, reading, links) and that each was fairly short so ask to make it easy to go through when one just has short periods free. The transcript of each video is also helpful. The clear explanation of the two programs, redemption and kingdom, was good.
- Shirley
Many languages
If English is not your native language, you can choose another language and follow the transcript on the right side of the video. We are working on adding more languages. You can rewind the video either by clicking on the timing bar below the video, or by scrolling back the text to where you want it, and clicking there. You can also slow down or speed up the video.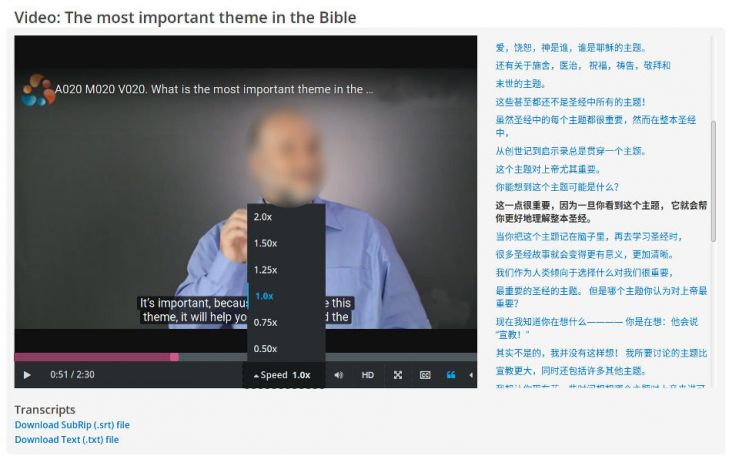 Video transcripts
The video transcripts can be downloaded if you prefer to read rather than to listen.
Self-paced
Our courses are aimed at adults. Therefore, you set your own pace and work at the times that best suit you.You can log out of Didasko whenever you wish. When you return later, you are automatically taken to where you were before. On some browsers, you can pause, rewind, slow down or speed up video playback to make it easier to follow. You can watch any video as many times as you like.
Most videos are followed by a short quiz to help you process the content. The objective is not a test, but is rather intended to help you ensure that you have grasped the most important facts that were taught. Many videos are also followed by reflection questions to encourage you to pray about and to apply what you have learnt. If you are doing a course alone, you can interact with other learners through the online discussion forums. Many videos also have links to optional readings or online articles.
Groups
We encourage you to gather a group of friends and do the courses together. Then you can discuss the reflection and facilitation questions with one another. This is a better way to learn than completing the courses alone.
If you do a course as a group, we recommend you choose someone to be the facilitator. A facilitator does not have to be an expert on the subject matter; they can learn along with the group they lead.
Self-directed
Didasko does not dictate which courses you do, nor when you work on them, nor even whether you complete a course at all. It is up to you.
If you are new to intercultural ministry, a good place to start is by doing The Bible and Missions course, which explains the basis of and need for intercultural disciple-making ministry. This can be followed up by Discipling the Nations and Roles in Frontier Missions. This courses are collectively called the Discovering Missions series, and give an in-depth overview of the world of missions.
But before you tackle these courses, we recommend you do the short tutorial course "How to use Didasko", which shows you how to take any course on Didasko. Here you will learn how to:
navigate through the courses

interact with other learners

answer online quizzes and problems

participate in online discussions and Wiki
This course will help you to proceed to your first real course with confidence.
Exams and Certificates
At the end of each module there is a short exam, usually in the form of a multiple-choice quiz. To earn a certificate, you must pass every module quiz in the course. These exams are easy to complete, as long as you have watched and understood all the video lectures.
You can print out your certificate, but Didasko retains an digitally signed copy you can refer to. For more information on certificates, click here.
See an overview of the starter courses we offer